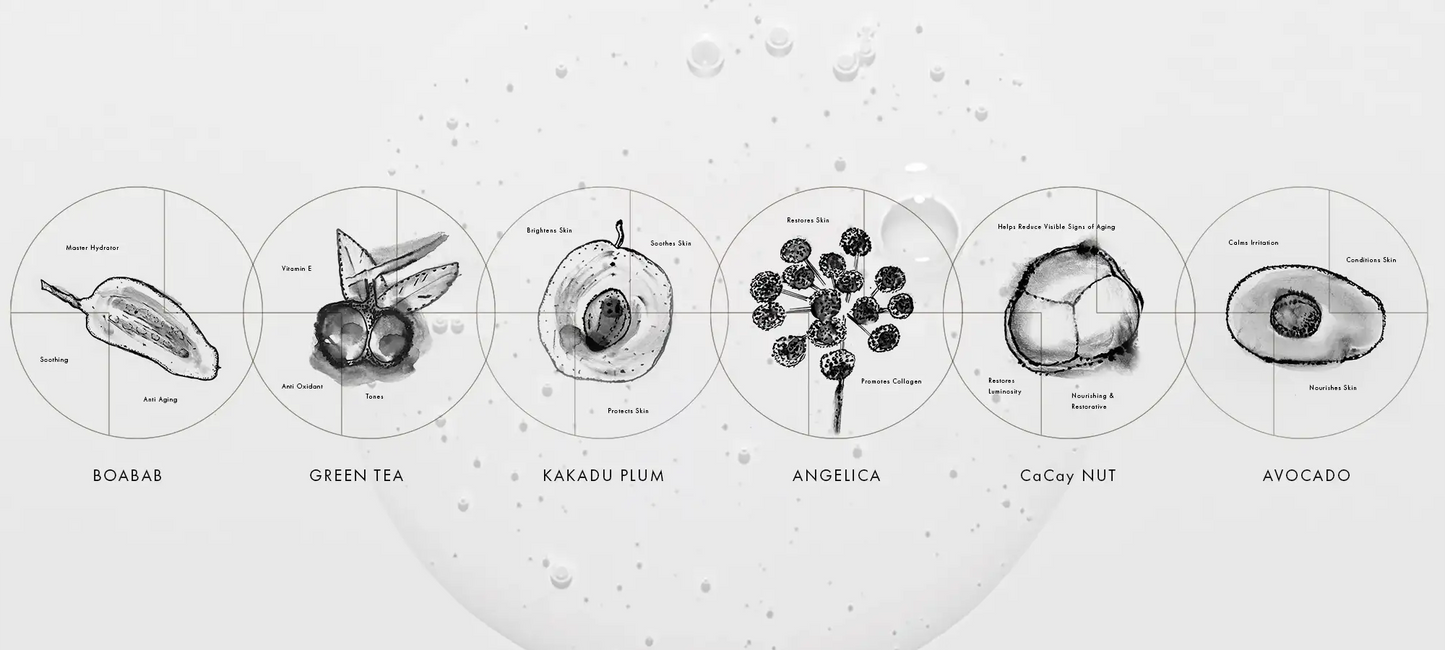 CACAYE is proud to feature some of the most effective fruits, flowers, and oils on earth in our signature skincare blends. By joining together expert sourcing with leading-edge formulation, CACAYE realizes the full potential of each ingredient, offering maximum efficacy and maximum results. Read more about our proprietary blends and the botanicals that compose them below!
FermenFruit™ Extract
Found in CACAYE's
Superf
ruit Ferm
ented Renewal Cream
, this proprietary blend of fermented botanicals is supercharged with skin-nourishing compounds to encourage a healthy, thriving complexion. Key ingredients include:
Kakadu Plum Extract
Native to Australia, Kakadu Plum is one of the most concentrated natural sources of Vitamin C known on earth. Accompanied by a wealth of antioxidants and phenolic compounds, this superfruit brightens, soothes, and protects skin from environmental aggressors. 
Baobab Fruit Extract
The nutrient-packed Baobab Fruit is rich in omega fatty acids and Vitamins B and C, offering a range of anti-aging and soothing benefits. A master hydrator, Baobab moisturizes and repairs dry, dull skin for improved tone and clarity.
Avocado Fruit Extract
Native to Mexico and renowned for its density of skin-feeding compounds, Avocado conditions, nourishes, and calms irritation while helping to shield the skin from UV photo-aging.
PurFerm Extract™
Found in CACAYE's CaCay + C Fermented Brightening and Cleansing oils, this cutting-edge proprietary formulation synergizes a curated selection of fermented botanicals, maximizing their efficacy while facilitating their absorption into the skin. Key ingredients include:
Angelica Root Oil
Known throughout history as "Root of the Holy Ghost" for its healing properties, Angelica Root is a powerful antidote to various common skin issues, promoting collagen production and healthy circulation for a youthful, balanced appearance. 
Green Tea Seed Oil
Valued for centuries in East Asia as a beauty secret, Green Tea Seed is enriched with fatty acids and Vitamin E. Its antioxidant benefits help to fight free radical damage and eliminate harmful bacteria, clarifying and smoothing the skin.